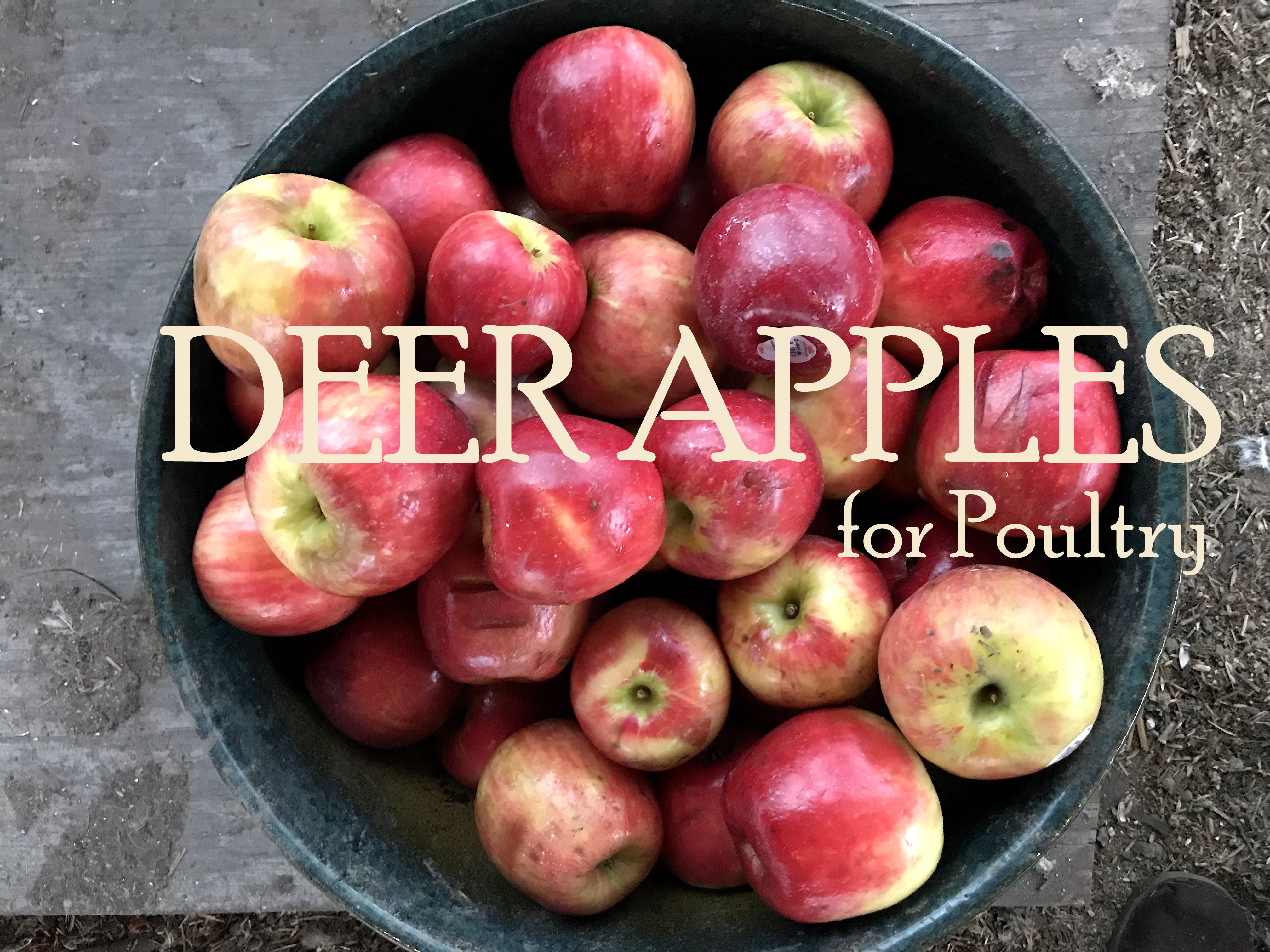 For many years, pumpkins were my Fall food crop of choice to feed my flock. Pumpkins are cheap to buy, and even more so to get them for free after Halloween. I found out a couple of years ago, the heirloom pumpkins were even better than the carving pumpkins due to the denseness of their meat. I thought I would make a change of pace and try out other seasonal foods available to me.
I decided to switch up and offer my flock whole apples in quantity! Apples are readily available in the north where I live, as fruit trees are a fairly big commercial crop in Michigan. In the fall during hunting season, large bags of apples are available that are used in deer hunting; hence I call these apples "deer apples". They may be a little past prime, or bruised and such. Not the optimal apples producers like to put on the shelf to sell to people. But they are still perfectly good, edible and very reasonable in price.
Many people are concerned about the toxicity of apple seeds due to the over-reporting that seems to be done on this subject. Apple seeds contain amygdalin, a substance which contains cyanide and sugar which when ground up (apple seeds have a very hard shell) will get converted to hydrogen cyanide (HCN). This can cause illness, but acute toxicity is rare with normal consumption of whole apples due to the quantity that is needed for this to happen. And the seeds have to be consumed all at once in that large quantity. Personally I don't worry about chickens that might peck at and eat whole apples. They may eat a seed or two, but I doubt they would eat that many apples to get to that many seeds in the course of a day.
Nutrition wise, apples offer a little more than pumpkins except in Vitamin A. Apples excel in suppling antioxidants, flavonoids and dietary fiber. Red apples contain an antioxidant called quercetin. Recent studies have found that quercetin can help boost and fortify the immune system, of which our poultry can always benefit from. Apples also offer carbs for energy and other vitamins and minerals, notably Vitamin C.
If you have apple trees and can pick the leaves, don't overlook their medicinal value. The leaves possess cooling, astringent properties along with anti-inflammatory properties. The leaves would be a useful anteseptic in any topical application.
If you are looking for a good Fall crop food for your chickens, whole apples would be a good choice!
Sources:Original Article, Susan Burek.
2018 Moonlight Mile Herb Farm, Copyright